Award Winning New Dog Toys Your Pup Will Love!
A Few of our BEST SELLERS!
Dawg Grillz Charity Mission
Save A Dog

We're donating 50% of profits from Dawg Tagz to help fight breed specific legislation that is causing the loss of 1,000's of pets around the globe. With your help we are currently at $6,202 and we've donated $5,000 to Fresno Bully Rescue! There is more work to be done so keep representing those Tagz to support breeds in need! Support the cause and order your tag here
Unique and Fun Dog Toys
We built Dawg Grillz because of our love for pups. We test each and every product with our own furry friends and because we strive to give you the absolute best products around.
Fast + Free Shipping
Spend more than $25 on your order and we cover the shipping worldwide! We make it easy-peasy so your pups can have their favorite new toys in a hurry.
Save a Dawg With Nila Charity!
We've teamed up with @Nila_Blue_Staffy on Instagram to create the Dawg Tagz charity to raise awareness for and put an END to Breed Specific Legislation. When your pup wears their Tagz, you can feel proud knowing your purchase helps save bully breeds in need all while raising awareness for what's right.
Completely Non-toxic
We build our toys out of BPA-free, non-toxic rubber sourced right from the medical industry. We've been tested and passed every health standard so you can feel at ease when your pup plays with their Dawg Grillz toys. Literally safe enough for babies, even if yours has fur.
Dawg Grillz BALLZ
The award winning toy that started it all!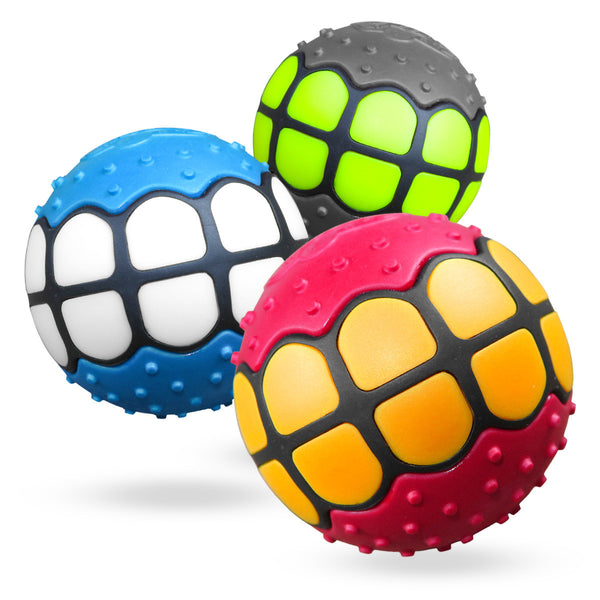 Non-toxic

Made from rubber sourced from the medical industry and tested by the European Commission.

Scented

Our specially formulated Vanilla scent that lasts for the life of the toy and helps visually impaired dogs find their toy!

Squeaks!

Tough construction that takes dawg strength to squeak. We've built this toy to endure loads of squeaks.

Floats

Our tester dawg loves to swim, so fetch in the water is a must. You can play all day in the surf with your pup!
"I love to see my pup smile" - Dawg Grillz Customer